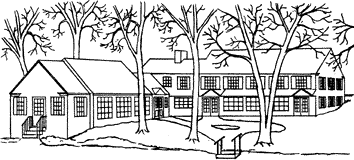 Scarsdale Friends (Quakers) meetinghouse is located at 133 Popham Road in Scarsdale, NY, just off White Plains Post Road and a half mile from the Scarsdale train station. We join in meeting for worship every Sunday at 11:00. All are welcome. Child care and First Day (Sunday) School are provided.
You can learn more about us by exploring our programs and activities, or by reading our newsletters and the minutes of our monthly meetings for worship with a concern for business. Our business meetings are held on the second Sunday of each month following our weekly meeting for worship.
 Members and attenders may log in on the Members page.
The Scarsdale Friends Nursery School is under the care of our meeting. 
If you are interested in finding out more about Quakerism and Quakers, take a look at the Quaker Information Center Web site.